Prodigy Audio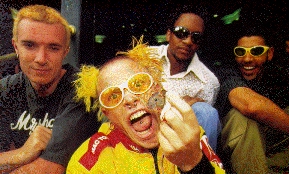 Live Tracks
No Good
Firestarter
Their Law
Funky Shit
Voodoo People
Poison
Jericho
Music Reach 1/2/3/4
Rare And Non-Album Tracks
Firestarter (Empirion Mix)
Molotov Bitch
Firestarter (Instrumental)
Mindfeilds (Monkey Mafia Remix)
The Trick
Voodoo People (Haiti Island Remix)
Speedway (Secret Knowledge Remix)
Rat Poison
Voodoo People (Chemical Brothers Remix)
No Good (CJ Bollands Museum Mix)
No Good (Bad For You Mix)
Scienide
Poison (Environmental Science Dub Mix)
One Love (Jonny L Remix)
Rhythm Of Life
Weather Experience (Top Buzz Remix)
We Are The Ruffest
Wind It Up (Bonus Beats)
Wind It Up (Unwind)
Wind It Up (Forward Wind)
Wind It Up (Tightly Wound)
Fire (Genaside II Remix)
Fire (Burning Version)
Charly (Beltram Says Mix)
Everybody In The Place (Dance Hall Version)
G-Force Part 1
Crazy Man
Everybody In The Place (Fairground Remix)
Rip Up The Sound System
Out Of Space (Techno Underworld Remix)
Out Of Space (Millenium Mix)
Out Of Space (Celestial Bodies Mix)
Ruff In The Jungle Bizness (Uplifting Vibes Remix)
Your Love
Charly (Alley Cat Mix)
Pandemonium


What Evil Lurks
What Evil Lurks
We Gonna Rock
Android
Everybody In the Place (Original Mix)
Remixes
Art Of Noise - Instruments Of Darkness
Baby D - Casanova
Bug Kann And The Plastic Jam - Made In Two Minutes
Dream Frequency - Take Me
The Magi And Emanation - Everybody Say Love
Front 242 - Religion (Prodigy Bass Under Seige Mix)
Front 242 - Religion (Prodigy Trance U Down Remix)
Method Man - Release Yo Delf
Jesus Jones - Zeroes And Ones
The Time Frequency - Retribution '93 (MP2)
All sounds are MP3 format. They range in Filesize from 3 to 8 Megabytes. Most are Sampled in 128 Kbits in Stereo Many, Many Thanks to Prodigy Underground Archive.
---
RealAudio

Those Files are RealAudio, of couse, with and RA extension. Click here to download a player for Windows 95. Click here for versios on different platforms.
---
Report Broken Links to me.
---
[Discography][Audio][Video][Lyrics][Links][Tablature][The Band and their History][Articles][Samples Used][Images][Street Values][Survey][About Me][Main][Tour Dates]